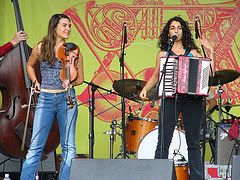 Seeing as how I missed this weekend's Jewzapalooza events, I thought maybe I could convince the Publisher to send me to this: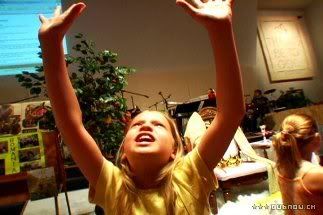 JESUS CAMP, follows Levi, Rachael, and Tory to Pastor Becky Fischer's "Kids on Fire" summer camp in Devil's Lake, North Dakota, where kids as young as 6 years old are taught to become dedicated Christian soldiers in "God's army." The film follows these children at camp as they hone their "prophetic gifts" and are schooled in how to "take back America for Christ." The film is a first-ever look into an intense training ground that recruits born-again Christian children to become an active part of America's political future.

Just kidding, but isn't that freaky? The movie looks really interesting, but just to cover the Christian bases, I'll have you know that born-again Christians are a different breed from those of us who were only born once. A breed that most of us try to keep at arm's length. We appease them by listening to their preaching because we understand that it's all healing and, like, therapeutic for them and stuff. But, we know they're just freaks. Generally, born-agains are those who fell off the deep-end but were, in a moment of clarity, "saved" by God. They become so indebted to Him that they spend their everydays preaching His word. Hearing someone preach about anything, however, is pretty annoying. The movie described above throws me for a loop though; born-again Christian children? Are these kids who are born to the quacks? Or are they kids that had some serious coke problems when they were oh, say, 5 and were subsequently saved? Hmm… I'd like to see it, but it's probably not going to happen on the boss's dime.

And on that note, is there such thing as a born-again Jew? I've heard a lot of people refer to themselves as "Fallen Jews." If the so-called "Fallen Jew" ever lands, does he/she have to 'rejoin' the religion, or is that a Christian thing? Also, I've not had the opportunity to hear a Jewish person do much in the way of preaching to others. Is this because they are not looking to convert others? Because they do not feel as strongly about their religion? Or, because they don't need the affirmation that is someone else's opinion?

Sorry – I don't mean to be too deep this early in the morning, early in the week. I just got to thinking and, uh, yeah.

I'll be back shortly to share a new email with you. This time I come bearing an email from one of the freelancers who is not too pleased with the Publisher's Wife. As you might suspect, I loved receiving it.